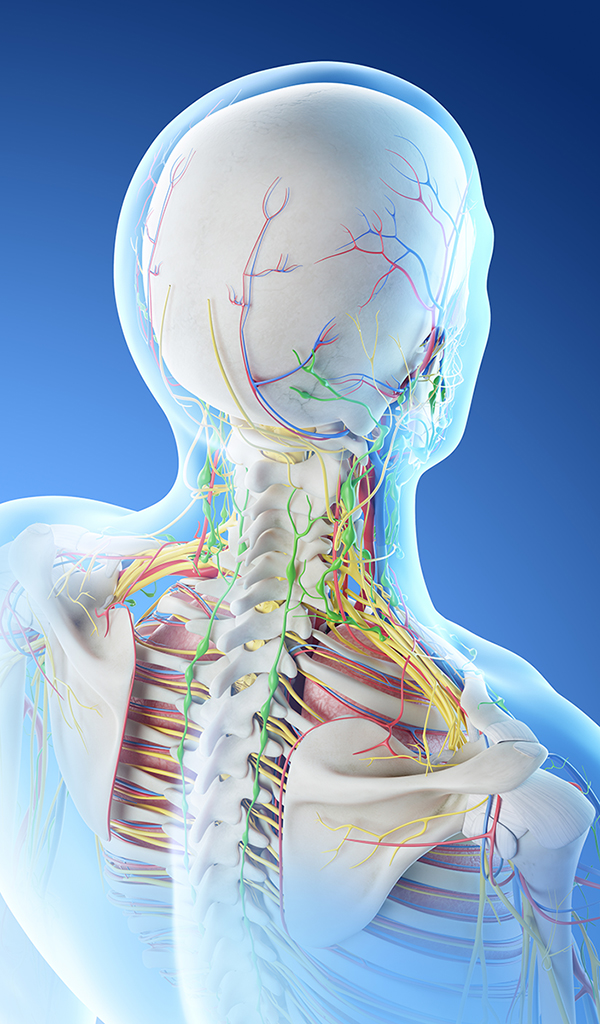 CERVICAL MYOFASCIAL PAIN SYNDROME

Our neck and shoulders are composed of muscles, bones, nerves, arteries, veins, ligaments and other supporting structures.
In most cases, neck pain is related by muscle or ligament damage. It is estimated that some 50% of people suffer from cervical myofascial pain syndrome. The problem is even affecting younger people nowadays. The main symptom is soreness & stiffness in neck and shoulder muscles, radiating towards the upper back and waist areas. There are painful knots in muscles. When they are pressed, there is substantial pain and the nearby muscles is tight & stiff like a rock. That can spread to other parts of the body.

The tightening of the myofascial fascia can also cause spinal curvature. To avoid such deteriorations, early attention to myofascial pain is highly necessary.
Wendy had severe pain and stiffness in her neck and upper back. That stretched to her back, making her unable to straighten her upper body. These conditions are called cervical myofascial pain syndrome which is a form of inflammation. She felt unstable when standing as if she was stepping on cotton. This could be a sign of cervical degeneration. She had tinnitus and felt cold constantly. Her hands and feet were very cold. But her body exam failed to identify the source of her health issues. Based all her symptoms, her Chinese doctor reckoned that the root cause was strain and deficiency in qi and blood. Chinese medicine theory has it that kidney qi deficiency and the weakening of the liver and the kidney can cause orthopaedic degradation and deficiency of qi and blood. Therefore we must nourish the kidney and strengthen the flow of qi and blood. The health benefits of NutritiveZ™ Lifeforce DVA + AX Capsules exactly match such essential needs.
SHOULDER & NECK PAIN: PRESPECTIVE OF WESTERN MEDICAL PRACTICE
Because the nerves of the shoulder, neck and upper back are closely connected, people often mix up the pain in these areas. This is referred to as "referred" pain" in medical terms. There are many causes of shoulder, neck, and back pain, including issues with the heart, the lung, the spinal cord and abnormalities of other our bodies. However, most cases such pains are purely orthopaedic issues. Apart from acute trauma, strain and degeneration are the most common causes of such pain.
Chronic Soft Tissue Damage
Incorrect posture and constant repeated movements can damage our muscles, ligaments, cartilage, tendons, joint capsules, synovial sacs, resulting symptoms of chronic pain. The damage triggers contractions to protect the injury areas. As a result, blood circulation in the affected areas is undermined, unable to provide the oxygen needed for the repair.
Rotator cuff tear
The rotator cuff is a group of muscles and tendons that surround the shoulder joint, keeping the head of your upper arm bone firmly within the shallow socket of the shoulder. A rotator cuff tear can be caused by a single injury or strain. The tendons and bursa around your rotator cuff are especially prone to inflammation that causes pain and stiffness around your shoulder. And as we age, the blood supply to rotator cuff tendons reduces, impairing the body's natural ability to repair tendon damage and bone spurs often develop on the underside of the acromion bone. The bone spur rubs on & damages the rotator cuff tendon.
Cervical Spondylosis
Based on research findings, it is estimated that more than 60% of people over the age of 60 have cervical spine problems. The risk level is related to age, occupation, trauma and genetics.
Early symptoms of cervical spondylosis usually include pain and stiffness in the neck. If not handled in a timely manner, cervical spondylosis results in a narrowing of the space needed by the spinal cord and the nerve roots that pass through the spine to the rest of your body.
If the spinal cord or nerve roots become pinched, you might experience:
pain spreading to shoulders
tingling, numbness and weakness in arms, hands, legs or feet
lack of coordination and difficulty in walking
loss of bladder or bowel control
Due to aging, the bones and cartilage that make up your backbone and neck gradually develop wear and tear.
dehydrated discs: Our spine is composed of vertebrae. There are the soft discs that act as cushions between vertebrae. Disks act like cushions between the vertebrae of your spine. By the age of 40, most people's spinal disks begin drying out and shrinking, which allows more bone-on-bone contact between the vertebrae, increasing the risk of cervical osteoarthritis.
herniated discs: When the exterior of the spinal disks ages. Cracks often appear, leading to bulging (herniated) disks — which sometimes can press on the spinal cord and nerve roots. A tear in the disc ring may result in the release of chemicals causing inflammation, which can result in severe pain even in the absence of nerve root compression.
bone spurs: Degeneration of the intervertebral discs stimulates the intima of joint to produce bones misguidedly, causing bone spurs. These bone spurs pinch the spinal cord and nerve roots.
ligament stiffness: A ligament is the fibrous connective tissue that connects bone to bone. When our spinal ligaments age and harden, the flexibility of the neck is hampered.
cervical spine arthritis: The neck nerves are squeezed, affecting the neck, nerve roots, spinal cord, vertebral arteries and sympathetic nerves.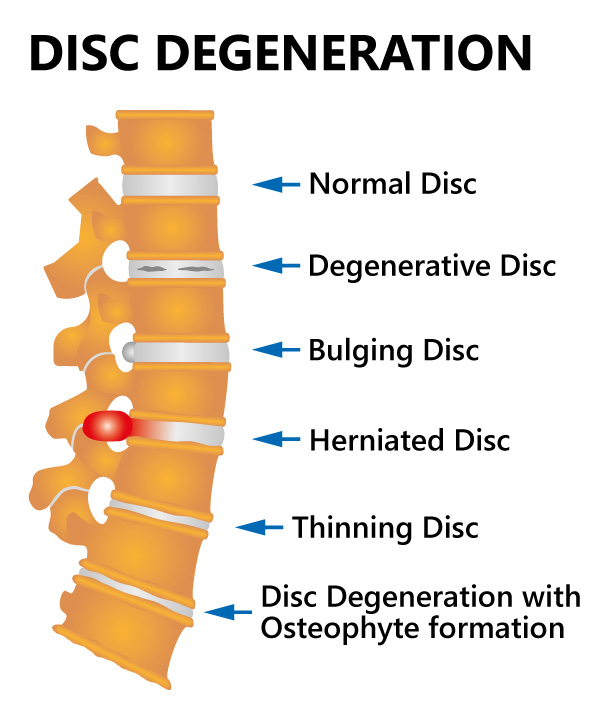 SHOULDER & NECK PAIN: PRESPECTIVE OF CHINESE MEDICAL PRACTICE
Chinese doctors believe that the pain mainly comes from "poor circulation of blood & qi" and "deficiency of blood and qi". If the strain in the cervical spine stimulates the sympathetic nerve, palpitations, tinnitus and nausea are likely to occur.
In the early stage of shoulder and neck strain, the usual symptoms are pain and muscle stiffness. That impairs blood flow in the affect areas. This falls into the "numbness" category in Chinese medical theory. Long hours on reading documents & computer work and using mobile phones continuously, our necks are in poor posture which causes poor blood circulation. If left untreated, it can lead to chronic pain such as neck muscle atrophy, muscle strain and cervical degeneration. Cold air con or fans blowing directly on the neck and shoulders can cause the muscles to spasm.
Due to aging, people's liver and kidneys become weaker, leading to the deficiency of qi and blood. Therefore the musculoskeletal system is not getting sufficient nutrients for essential maintenance and pain is resulted. During and after menopause, women experience hormones change. Their bone, tendon and muscle lose elasticity. The inefficiency in nerve transmission and flow in arteries and veins can cause pain in neck, shoulders & spine and even spine degradation.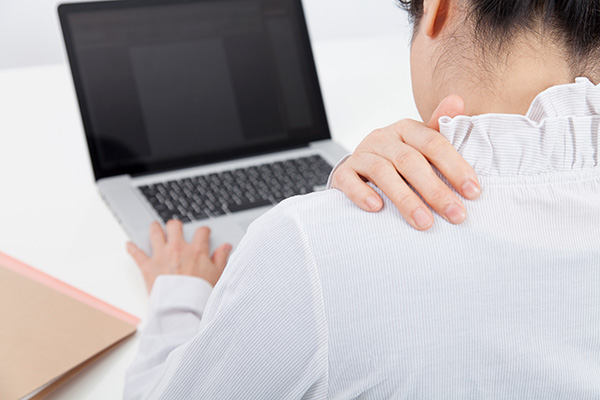 TCM divides shoulder, neck and back pain into 3 major types:
(1) wind-cold-dampness type: pain & numbness in the shoulders, neck and back; shifting or severe pain; stiff neck
(2) qi and blood deficiency: dizziness, paleness, palpitations, shortness of breath, numbness in limbs, spiritless, fatigue, lack of strength
(3) liver and kidney deficiency: dizziness, headache, tinnitus, deafness, insomnia, limb numbness, neck pain, weakness in the waist and knees, inability to walk for a long period
TCM treatment is based on the principle of stimulating the circulation of the blood and causing the muscles and joints to relax. Chinese medicine, acupuncture, massage and cupping are used according to the type of pain in order to eliminate the coldness, dampness and activate blood circulation. The objective is to relax, reduce pain and improvement of qi and blood flow. Deer antler is often recommended by Chinese doctors to address kidney deficiency, revitalise the body and fight again degeneration.
TINNITUS: ISN'T IT JUST EAR PROBLEMS? IT CAN BE REAL AND FALSE BY NATURE?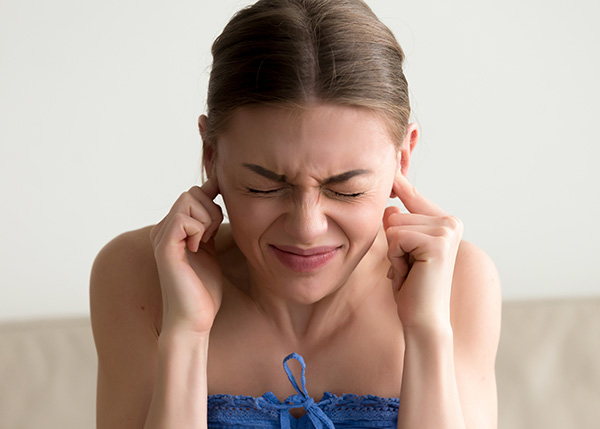 Tinnitus is not a disease itself but a symptom of other potential health problems. It can be attributed to main causes.
Age-related hearing loss, eardrum inflammation, stiff middle ear bone, inner ear disease or inner ear muscle spasm, acoustic neuroma, damage of ear nerve or auditory cortex.
Sensory hair cells in the ear damages by noise, trauma to the head or neck affecting the inner ear.
Atherosclerosis, tumours in the blood vessels of the head or neck, high blood pressure, carotid artery or jugular vein stenosis and blood flow turbulence.
Antibiotics, diuretics, antidepressants, quinines, cancer drugs, nicotine and caffeine.
Unfortunately Western medical exam fails to identify any solid reason for tinnitus in many cases.
TCM treatment of tinnitus depends on whether the problem is real or false by nature. To differentiate the two, you can simply cover both ears with your hands. If the tinnitus becomes louder, it is "real" by nature. If the tinnitus becomes quieter, it is "false" by nature. Symptoms of tinnitus due to aging are is considered "false" and can be further classified into:
A person's kidney is the foundation of life. Weakness in kidney 'qi' energy can cause signs of aging such as tinnitus, back curvature, feeling cold and weakness of waist & knee. Therefore, reinforcing the qi of the kidneys is the method used by TCM to treat tinnitus in older patients.
This is caused by the inadequacy of qi and blood. Therefore the five sense organs (including ears) are not supplied with sufficient nutrients for essential maintenance.
When encountering tinnitus, you should consult your doctor to find out the reason. If the tinnitus is a "real", immediate medical treatment is necessary. If it is "false", it is important to replenish your body with health supplements. Deer antler + astaxanthin is highly effective for the maintenance of body conditions and promotes long-term health, fighting against "deficiency", weakness and aging.
DEER VELVET ANTLER : JOINT HEALTH
The Chinese Pharmacopoeia states that: Deer Velvet Antler strengthens the kidney, helps blood and strengthens bones. It can improve the symptoms of blood deficiency, coldness, waist pain and weak bones.
Deer Velvet Antler is a rich source of natural GAGs including chondroitin, glucosamine, keratin sulfates, hyaluronic acid and proteoglycans. Researches show that chondroprotective agents promote repair of cartilage by stimulating anabolic metabolism of chondrocytes and/or inhibiting catabolic processes found in osteoarthritis.
Deer Velvet Antler contains four types of collagen. Collagen in the deer velvet antler is beneficial for bone health and joint health, supports cartilage-derived antigens and can help to relieve the symptoms of arthritis.
Prostaglandins in velvet antler are known for their anti-inflammatory effects, reducing swelling in injury, infection, pain, and arthritis.
As you age, your body's natural level of growth hormones are also reduced. Deer velvet antler also contains 20 growth factors (including IGF-I , IGF-II). IGF-1 is the most important of the 4 growth factors in the human body. It stimulates new cell growth and cell regeneration in the body and is responsible for increasing lean muscle mass, decreasing body fat and improved healing and recovery times.
Deer velvet antler enhances blood volume, blood circulation and the oxygen carrying capacity of blood by stimulating red blood cell growth and nourishing bone marrow.
NutritiveZ™ uses Altrive® Big-Bulb DVA which has very high amino acids content (>57%), including glutamine, which is very important for nerves and the immune system.
NutritiveZ™ Super A Deer Velvet Capsules using Altrive® deer velvet are certified by an independent ISO 17025 lab to contain >57% Amino Acids & <32% Ash.
Deer Velvet Standard
Amino
Acids

1

Moisture
Ash Content
New Zealand - Altrive 'Big Bulb' Deer Velvet Standard
> 57%
< 6%
< 32%
Jilin Province, China - Sika Velvet Provincial Standard
-
≤ 16%
≤ 45%
Hong Kong Chinese Materia Medica Standards – Sika Velvet
-
≤ 14%
≤ 37%
Chinese Materia Medica Grand Dictionary (China) - Sika Velvet
Max. 50.13%
-
-
1 Total Amino Acids (DM = Dry Matter)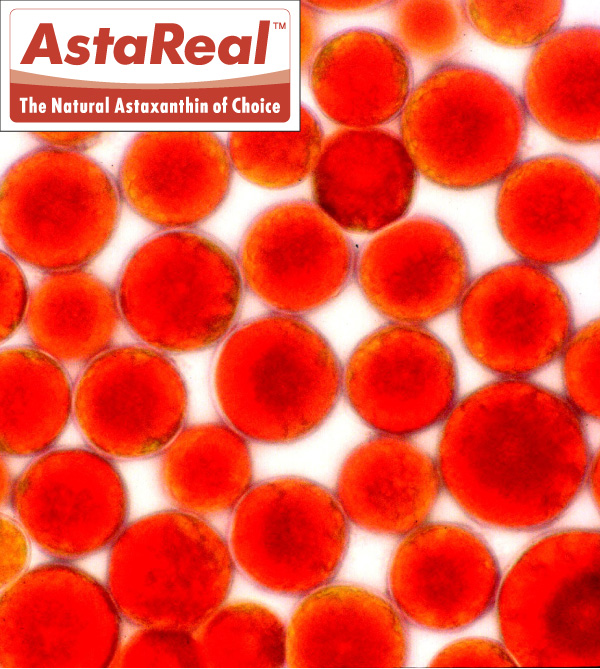 Astaxanthin under the microscope
ASTAXANTHIN: THE WORLD'S KING OF NATURAL ANTIOXIDANTS & ANTI-INFLAMMATORY SUBSTANCES
The energy required by our bodies is produced by burning muscle glycogen and fatty acids. The process of energy conversion produces reactive oxygen species, free radicals and derivatives. These substances oxidize cell membrane molecules and proteins, destroying cell structures, leading to apoptosis and inflammation. Modern medical theories point out that the reason for most diseases triggered by degeneration and unhealthy lifestyle factors is chronic inflammation. That can affect different parts of the human body.
Astaxanthin is the world's most powerful safe natural antioxidant and anti-inflammatory substance.
Reduces joint oxidative stress, resists osteoarthritis and rheumatoid arthritis
Protects muscle cells, reduces damage and inflammation
Reduces vascular system oxidation, strengthens blood circulation and promotes capillary integrity of atrophic muscles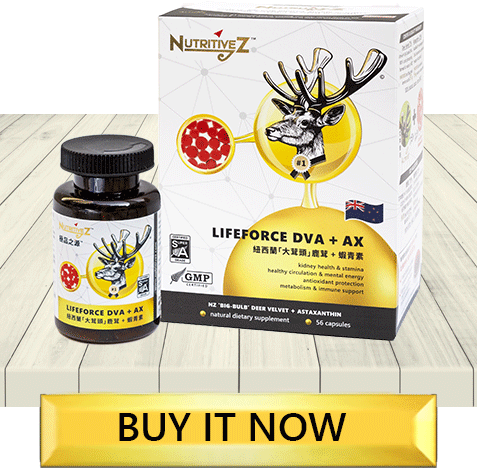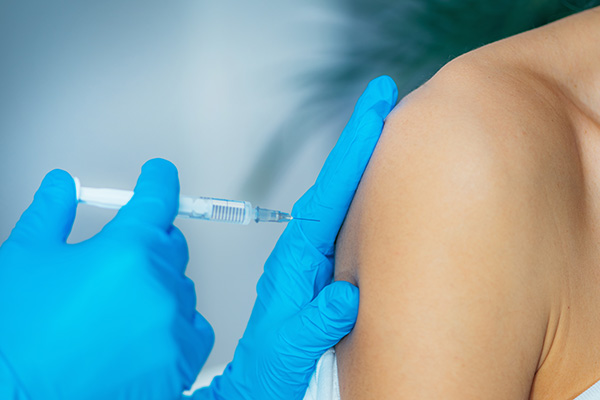 SHOULDER & NECK PAIN:
WESTERN MEDICAL TREATMENT
Treatments for neck and shoulder pain and shoulder arthritis by western medical practice include:
anti-inflammatory drugs and analgesics
local muscle relaxants or antidepressants
hot or cold pads
corticosteroid injection
surgery on nerve roots or spinal cord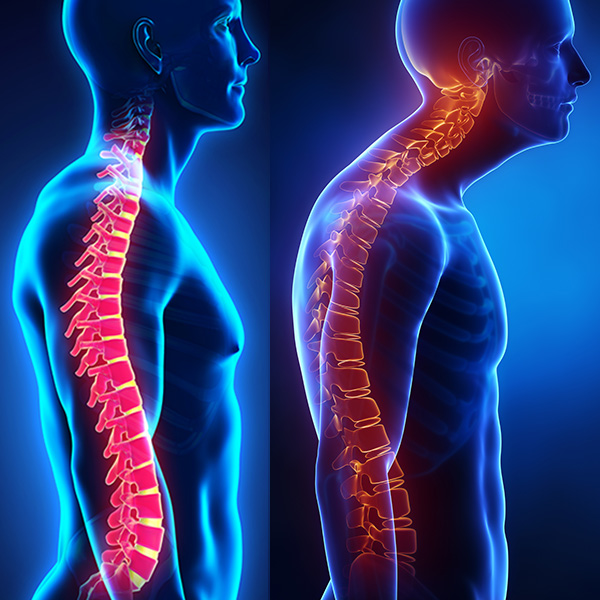 KYPHOSIS (HUMPBACK)
Spine degeneration, osteoporosis, arthritis & muscle atrophy may cause kyphosis (humpback).
Super A Grade Big-Bulb DVA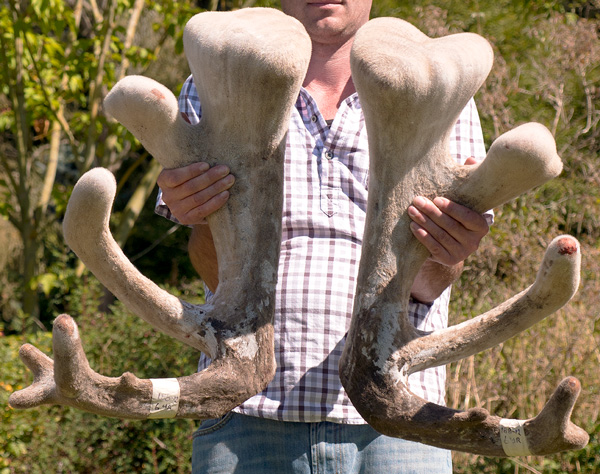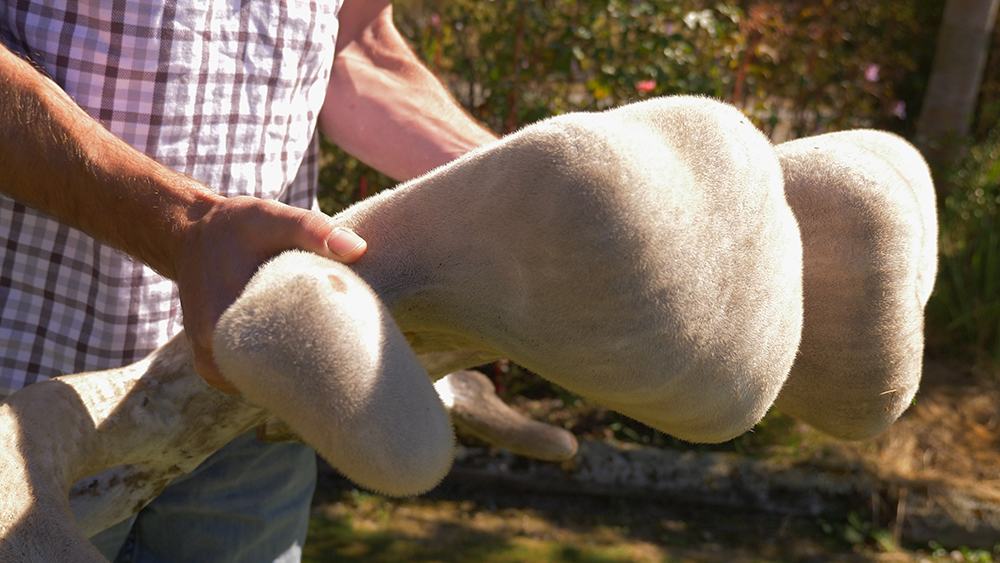 NutritiveZ™ uses Super A Grade Big-Bulb DVA from NZ Altrive® Deer Farm. Its 'Big-Bulb' shape & wide circumference delivers a higher ratio of bio-active inner velvet vs its semi-calcified surface.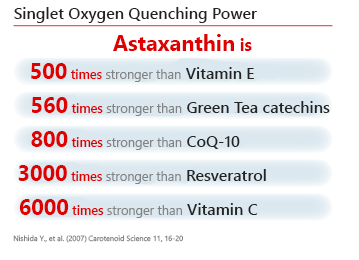 ASTAXANTHIN : CLINICAL TRIALS
1. Astaxanthin Improves Power Output
21 competitive amateur cyclists,4mg/day AstaReal™ or placebo
2 hour constant load cycling as pre-exhaustion, followed by 20 km time trial
4mg/day AstaReal™ Astaxanthin for 28 days or placebo
100% of participants showed an improvement in time & power output,121 sec improvement (5%) in average time and a 20W increase (15%) in average power output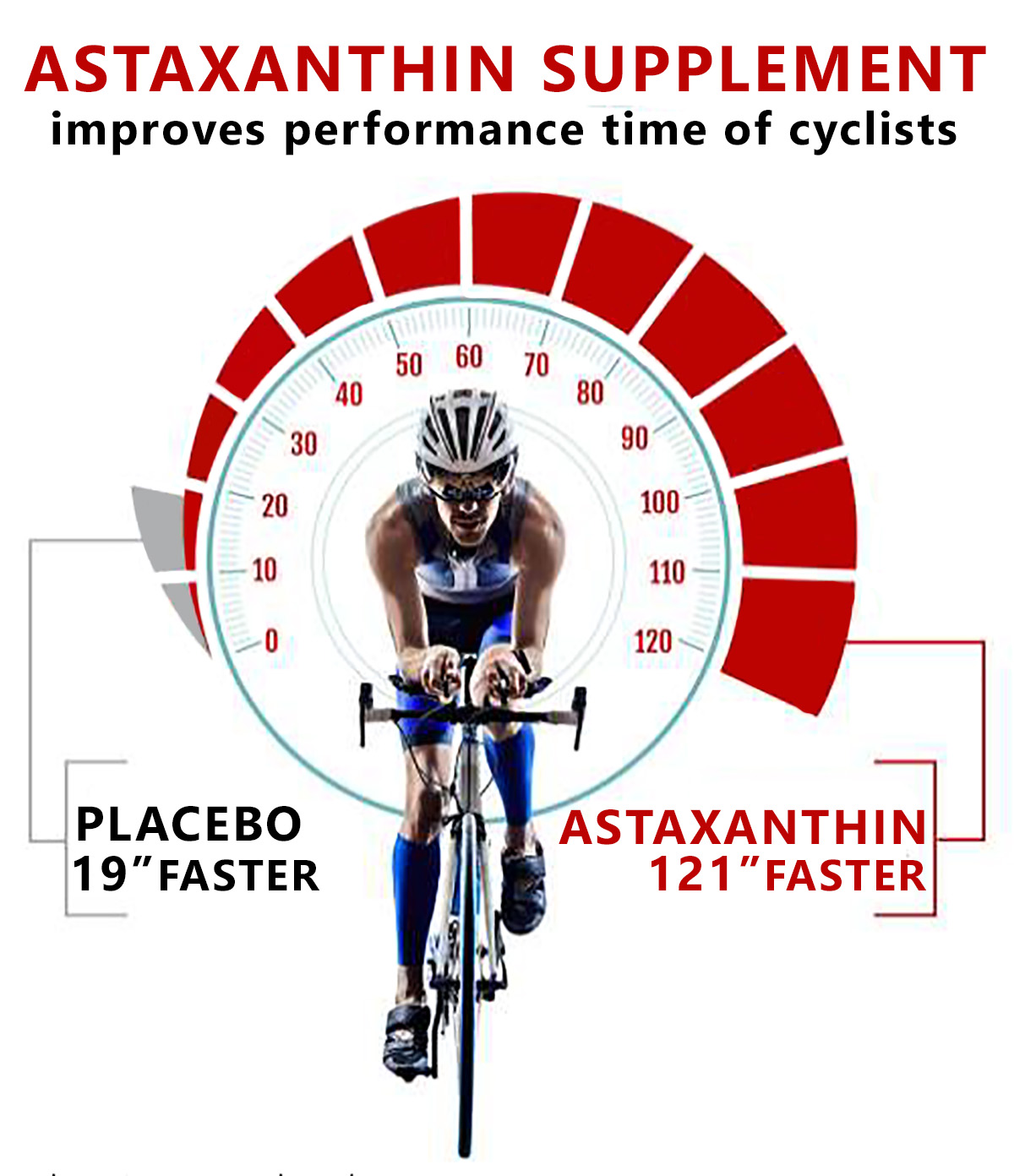 2. Astaxanthin Protects Muscles from Inflammation
40 trained soccer players (average 18 years old),21 treated with 4mg/day AstaReal™ Astaxanthin,19 treated with placebo
Placebo group had a 57% increase in system pro-inflammatory marker C-reactive protein (CRP), while the Astaxanthin group did not
3. Astaxanthin Protects Muscles from Free Radical Damage
Randomized, double blind, placebo-controlled study
32 elite soccer players were divided into two groups and took placebo or 4 mg AstaReal™ Astaxanthin daily for 90 days
Blood samples were taken before and after 90 days supplementation and after 2 hour acute exercise at the end of observation period.
Post-exercise levels of the muscle damage markers (peak CK and AST levels) were significantly lower in the Astaxanthin treated group compared to placebo group.